Haiti
Building Community Between Two Homelands
While our organization works closely with peoples who come to the United States, we are closely tied with family members and organizations back home, Belle-Anse, in Haiti. Our 501(c )3 not-for-profit organization is an ethical, NGO operating intimately with community members.
Back in the homeland, Haiti, the New Bridges for Haitian Success (NB4HS) works to improve the living conditions in the southeastern part of Haiti through educational and medical intervention. Our primary focus is mainly in the town of Belle-Anse, a place with over 158K residents with barely no functional health system and poor access to education. The population is still reeling from the devastations of the 2010 earthquake and more recently, Hurricane Matthew. Many still live in tents and hardly have access to food or clean drinking water. Our effort therefore, has been a major contribution in alleviating the lives of people in that community though still a lot has to be done.
Over the past years, we have enjoyed and unwavering support from the local Rhode Island community whose generosity have made our activities in Haiti possible. We have in the past sent a shipping container full of supplies to Belle-Anse community, and we have one more
This year, we sent an ambulance donated by Lt. Governor Dan McKee and the town of Lincoln, RI. This will not only address mobile emergency medicine but will be a life-changer for this community as it will be the first ambulance in that town.
Past Actions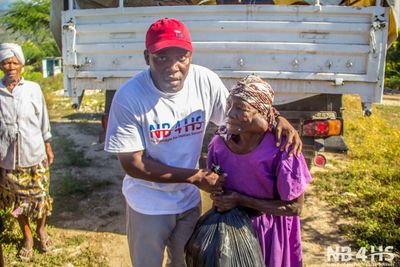 Partnered with the second largest order in the Catholic Church, the Salesiens of Don Bosco, to oversee the work that we are doing in Haiti.
Distributed hundreds of supplies to the affected children and community of Belle-Anse.
Distributed toys to kids as school prepared to re-open.
Delivered basic medical supplies to hundreds of people and donated items to the medical clinic in Belle-Anse.
In the Media
The notable media outlet in Haiti, Television Metropole -LePoint, Television Caraibe -Journal Premye OKasyon, and Radio One interviewed our founder, Bernard Georges on our efforts connecting the Haiti and Rhode Island.
Copyright © 2018 New Bridges for Haitian Success – All Rights Reserved.